At Hummingbird Hill Stables we offer a wide range of services designed to provide your equine athlete with everything he needs to have a stress-free recovery experience.
Feeding
The old English saying "Feed little but often" is something we believe strongly in here at Hummingbird Hill Stables. This is why we feed 5-6 times a day plus as much grass time as the mobility of the horse allows to emulate their natural grazing state. Each horse is weighed weekly to maintain a healthy weight. We offer a full range of quality hays including Timonty, Orchard, Bermuda and Teff. Should your horse require additional supplements, these will be given at no additional charge as you and your veterinarian provide and direct us.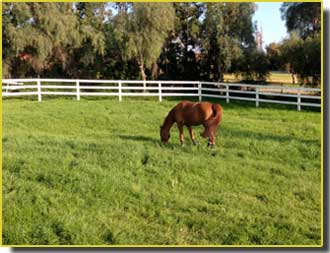 Pasture
Hummingbird Hill Stables provides natural pasture grazing for your horses on any one of the five 1/2 acre grass paddocks. Pastures are irrigated to maintain lush green meadows. Horses that are on complete stall rest are still able to graze, since we provide 15 minutes of hand grazing 3 times a day to these horses with limited mobility.
Veterinarian Services
We work closely with top Veterinarians and Farriers to provide the best prescribed therapy for the complete recovery of your horse. These experts provide the most advanced forms of veterinary medicine including Stem Cell, IRAP, PRP, shock wave and laser therapy. We also use Farriers who are experts in the field of lameness. In case of emergency, Hummingbird Hill Stables is located within ten miles of an Equine Hospital. Some of the additional services offered at Hummingbird Hill Stables include:

Ice pack therapy


Chiropractic care


Acupuncture


Bandaging

Equine Therapeutic Massage


Equine Aroma Therapy


Poulticing

Class 4 Cold Laser

Stem Cell Therapy
Grooming
Our Horses are groomed daily and are given a bath once a week. During their grooming session we "strap" the horses. The idea behind strapping is to lightly slap the horse's muscled areas with a cloth. The horse tenses and relaxes with each slap. As the groom gets into a rhythm the horses enjoy the feeling as they would a massage. Strapping aids muscle tone, relaxation, and cleaning/polishing. Mane pulling and clipper trimming services are also available.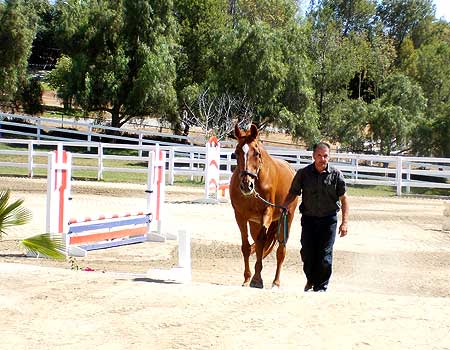 Hand Walking
During rehabilitation, all horses at Hummingbird Hill Stables are hand walked in straight lines 3 times daily based on veterinarian orders. Once sound, horses are introduced to walking in straight lines on a gradually increasing time schedule.
Equine Conditioning
Hummingbird Hill Stables can arrange a custom condtitioning program for your equine athlete when he is ready.